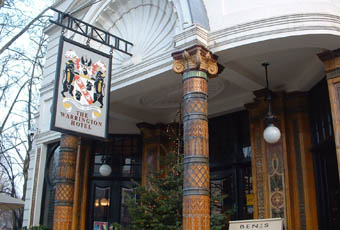 As
Traveller
has been blogging incessantly about Ramsay's new pub - it is only right that she should blog about the actual experience, and do not fear readers, it definitely surpassed expectations. The most satisfying part about the night was the fact that there were four others to share it with - which meant we were able to try four times the amount of dishes. While
Traveller
calls herself 'Gourmet' - she must admit that she hasn't tried all the weird and wonderful food that the world has to offer. However, on this lovely night, she was able to taste many new things and they were all heavenly.
As it was a new experience for all of us (the restaurant only opened around five weeks ago) we all decided to eat as much food as possible - which meant starters, sides, mains and dessert! :) (Luckily, as the restaurant is only new, and a pub - it doesn't have typical Ramsay prices - only around £12 for mains.)
For starters we shared escargot, smoked eel, potted duck and a grilled goat's cheese salad. On all accounts, the dishes were absolutely stunning.
Traveller
was a little nervous about the snails - but they were her favourite part of the evening - memorable and delicious!
Our dishes for dinner were roasted baby chicken, confit duck, Choucroute garnie (sausage) and rib-eye and all plates were left very empty. Dessert saw three plates of chocolate fondant, rhubarb and apple crumble and a treacle pudding .
Traveller
had the chocolate of course - and it was lovely.
The best part was, of course, the company -
Traveller
loves being around the other half of her family that has been away for so long. Oh, and the worst part? The niggling feeling that I would have to run a few more laps of the ol' running track.